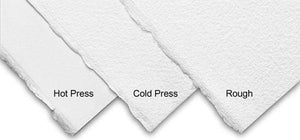 Aquafine Smooth Watercolour paper features a hot pressed untextured surface ideal for use with watercolours.

Forgiving surface that is very easy to use and effect corrections.

Versatile watercolour paper that is also great with acrylics, inks and a variety of dry media.

Outstanding quality that makes it perfect for professional artists and art students alike.

Sustainably manufactured acid-free paper.