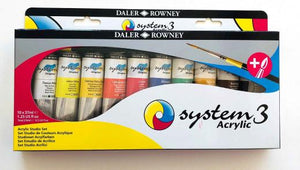 Daler Rowney System 3 Acrylic Studio Set NEW
10 x 37ml tubes
FREE Size 0 Round System 3 Brush for fine detail
Water based acrylic paint with excellent lightfastness, permanence, durability and covering power. Wonderful starter set or for those travelling to art clubs.
Acrylic Colour Paints included: Titanium White, Lemon Yellow, Cadmium Yellow Hue, Cadmium Red Hue, Crimson, Ultamarine, Emerald Green, Yellow Ochre, Burnt Umber and Mars Black. A great selection of warm and cool colours for mixing.
All colours can be thinned with water to create washes or used straight from the tube. This paint dries quickly and colours are opaque so can be covered up with another colour.