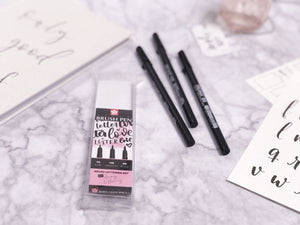 From hair-fine lines to large, broad strokes - the Pigma brushpen series offers ultimate versatility . The flexible brush tip reacts immediately to quick changes in pressure or direction. The result is a silky-smooth, consistent and waterproof ink stream . 
The set was designed in collaboration with the artist duo May & Berry. More information about the two can be found here: www.mayandberry.com .
Included in the set are:
1x Pigma Brush Pen Fine
1x Pigma Brush Pen Medium
1x Pigma Brush Pen Bold
They have been specially developed to give draftsmen a pen with fantastic elasticity . The deep black Pigma® archival ink guarantees a lifelong visible result.
* Flexible pen tip for thin and thick brush strokes.
* Waterproof